October 6, 2019|News
Beverley Babes – Exhibition on Saturday 12th October 2019
Who are the 'Beverley Babes'?
What is their connection to Wickham?
As Britain prepared for the possibility of going to war with Germany, the Southsea based Royal Naval and Royal Marine Maternity Home, known as Bowland, made plans to evacuate their premises, with patients and staff to be taken to Beverley House, Wickham.
On the 1st September 1939 – two days before Britain declared war on Germany – it was announced that the evacuation would take place the following day. And so on the 2nd September, patients from the Royal Naval and Royal Marine Maternity Home were driven to Wickham on two buses.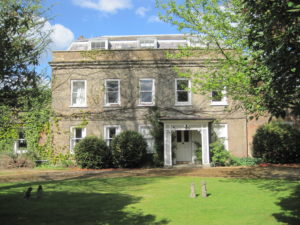 Beverley House was to remain in operation as a naval maternity home throughout the war. It is estimated that about 2,000 babies were born at Beverley House – they are affectionately known as the "Beverley Babes".
Stories
If you were born at Beverley, we would love to hear from you. A short write-up with date of birth plus information on Dad – what he did in the Navy, any ships he served on – would be wonderful.
Or perhaps your family helped look after the mums and babies?
Do you have any memories or photos to share?
Exhibition on Saturday 12th October
10-4.30pm at St Nicholas Church, Southwick Road, Wickham PO17 6HP
To commemorate the 80th anniversary, there will be an exhibition in St Nicholas Church telling the stories of some of these Beverley Babes, both happy and tragic.
At 2pm on Saturday 12th October there will be a short service led by Rector Jane Isaac to give thanks and remember the Beverley Babes and their families.
If you are a Beverley Babe – or know one – please do join us!
To get in touch, please contact Jane Painter by phone: 01329 835367 / email: janexpainter@hotmail.co.uk