Guided Walks
Why is Wickham Fair always on 20th May?
Where can you see a 16th century wall painting on display in the village?
How did the Barracks get its name?
To find out the answers and much more about Wickham's history, why not join us for a guided walk?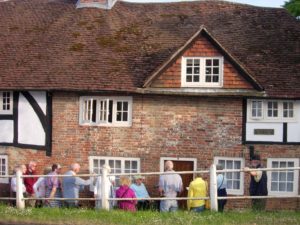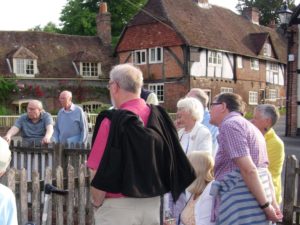 Guided Walks around the Village Centre
Summer is here and Wickham Village History Walks are back!
Subject to the Covid-19 situation at the time and weather permitting, these will take place on the following dates:
Monday 16th August 2021 at 7:00pm – FULLY BOOKED
Monday 13th September 2021 at 7:00pm – FULLY BOOKED
The walks start near the Wickham Square bus stop and last about 90 minutes and are free to Wickham History Society members.
The charge for non-members is just £3, payable in advance, before confirmation of your place.
These walks have been risk assessed in the context of Covid -19 and we would advise that participants socially distance and wear face masks.
There will be two groups with a maximum of 8 per group. The walk does involve some tracks and steps.
Pre-booking is essential and places will be filled on a first come, first served basis.
To pre-book, please complete our contact form and we will be in touch.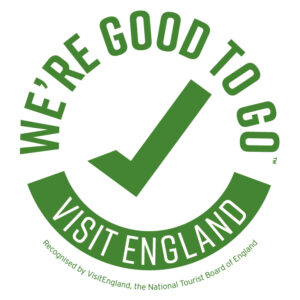 If you live locally, then why not plan your own Wickham history walk?
Guided Walks for Organisations
These can be arranged for times and dates to suit.  Want a shorter or specific walk route? Please contact us to discuss your requirements.
Walks are conducted by Society Guides.