Guided Walks
Why is Wickham Fair always on 20th May?
Where can you see a 16th century wall painting on display in the village?
How did the Barracks get its name?
To find out the answers and much more about Wickham's history, why not join us for a guided walk?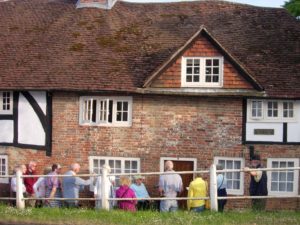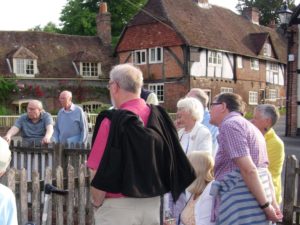 Guided Walks around the Village Centre
Visiting for the Wickham Music Festival and want to know more about Wickham? Then join a guided walk!
The Wickham History Walk are led by experienced WHS members. We cover the early origins of Wickham, including recent finds at Wykeham Vale behind School Road, key buildings like the Barracks, Square Cow and Chesapeake Mill and our medieval square, said to be the second largest village square in England.
Walks will take place on Friday 5th August and Saturday 6th August at 10.30am. They cost £5 for a one and a half hour stroll around the village with a local history guide – find out why a horse used to be a regular at Greens, how Chesapeake Mill got its name and much more.
PRE-Booking is essential – Book your place here or phone (01329) 835283
Can't manage the guided walk? If you buy Wickham History Society's Guide to Historic Wickham – £2.50, you can design your own walk around this lovely village.
There are also twelve history boards with more information at key locations around the village – map and details here.
Images of Wickham – a photobook of old images of Wickham is on sale too for £5.
Guided Walks for Groups & Organisations
These can be arranged for times and dates to suit.  Want a shorter or specific walk route? Please do get in touch if you are interested.
Walks are conducted by Society Guides.