Publications
LATEST PUBLICATION
Images of Wickham
A collection of historic views of Wickham including The Square and Bridge Street, recognisable buildings such as Chesapeake Mill and The Barracks, along with day to day scenes of village life, local businesses and celebrations.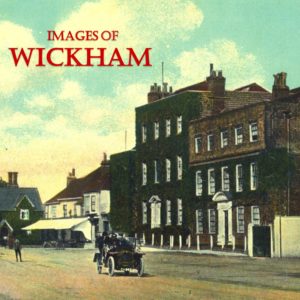 Published in 2020 to celebrate the Society's 60th anniversary, Images of Wickham is full of fascinating photographs, which draw you into the life of Wickham in days gone by. This eye-catching coffee table book is guaranteed to get people talking.
At a fantastic price of £5, this is an ideal gift for friends and family who live locally – and those from Wickham who now reside further afield.
For information on how to order a copy, please contact us through our website.
Special Offer: Buy Images of Wickham together with a copy of the Guide to Historic Wickham – 2nd Edition, and get the Guide for the discounted price of £2 (usually £2.50).
Images of Wickham is also available to buy at Chesapeake Mill (1st floor), Bridge Street; Warwick Lane (upstairs), The Square, and Westlands Farm Shop, Pricketts Hill.
The Guide to Historic Wickham 2nd Edition
This 48-page colour booklet provides details on many of Wickham's buildings along with information and stories on some of our local inhabitants.
Priced at £2.50 this Guide is only available by calling Geoff Phillpotts on 01329 833103 or contact us through our website.