August 31, 2019|Reports
Summer Visit – Lee-on the-Solent Heritage Waterfront Walk and Talk
In August, twenty of us enjoyed breezy weather and a sunny Solent for our stroll along the Lee-on-the-Solent waterfront with our guide Jonathan from the Lee-on-the-Solent Residents' Association (LRA). He pointed out that strictly you should always use the "the" in the name of the town, something few of us do!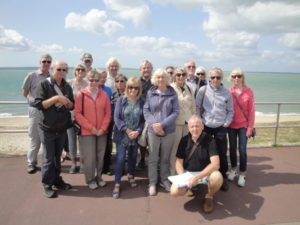 Lee was largely a Victorian entrepreneur's creation – Sir John Robinson and his son Charles saw the commercial opportunity of creating a seaside resort looking across to Queen Victoria's Osborne House on the Isle of Wight and so a Victorian planned town was born (£750 for a villa with a sea front view seems like a bargain today!). Sadly only a small number of the original victorian houses on the seafront survive.
A railway opened in the 1890s, running along the sea front from the Fort Brockhurst station to the pier. One of its last uses before closure was bringing in materials for the construction of the Lee Tower complex in 1935. The tower was 120 feet tall and included a ballroom, theatre and restaurant: you can still see the 1930s Art Deco style buildings built across the road from its site. It had wonderful views over the Solent but sadly was demolished in 1971.
The walk ended close to the old HMS Daedalus site, just to the west of the town. This was opened in 1917 as a base for Royal Naval Air Service flying boats.
Thank you very much to Lee-on-the-Solent Residents' Association and Jonathan for a chance to see and learn so much about Lee.
If you are interested in an Historic Waterfront Walk, more info is available at Lee Residents Association Heritage Walks.