January 26, 2019|News
Wickham History Boards are Installed!
In January 2019 twelve information boards highlighting different aspects of Wickham's history – using text, photos and illustrations – were installed at key locations around the village.
A brief ceremony to unveil the history boards took place on the Village Green, Bridge Street, opposite St Nicholas Church at noon on Saturday 26th January.
Nearly 70 people – including local villagers and representatives from other local history societies – joined members of the Wickham Parish Council and Wickham History Society to celebrate this fantastic achievement.
Angela Clear (WPC) and Geoff Philpotts (WHS) gave a short address and then unveiled one of the boards!
Many people joined us afterwards for light refreshments in the Church room and to see images of all twelve notice boards.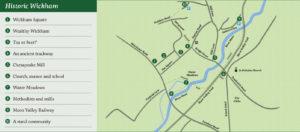 The project aim was to give visitors and residents more information about Wickham's past and our historic buildings, using old photographs wherever possible, to help bring the past alive. Each board has a QR code allowing visitors to use their smartphone to link to more information on the Wickham History Society website.
This joint project by Wickham History Society and Wickham Parish Council, supported by the Chamber of Trade, Wickham Village Team and Wickham Society, was made possible by a grant from the Heritage Lottery Fund.