July 19, 2020|
Yvonne Case – Business as usual at the Bakery
Throughout 1940, strenuous efforts were made to keep all normal services running as usual — the local buses stopped briefly only during air raids, and postmen climbed over rubble to deliver the mail.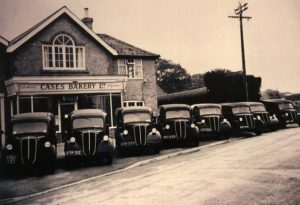 Cases Bakery Vans c.1950
During the worst period, one night the two main bakeries in Portsmouth were put out of action. Yvonne Case remembers that the family bakers shop set up a trough in the middle of the floor for mixing dough, and baked in batches through the night, so the people of Portsmouth would have bread next morning. There was a long queue waiting outside when they opened.