June 28, 2021|
Wickham National School, 1883-1916 – Facilities
The school log books record a lot of information on school facilities and equipment.
Perhaps reflecting headmaster William Langford's recent arrival in Wickham, there is quite a lot of detail on supplies and suppliers in 1883.  A tin of disinfecting powder was received from Mr Snowdon, chemist (June 12th); a new dustpan for school use from Mr Towe[l (June 21st); one ton of coal from Mr Edney (October 2nd); paraffin oil and brush for cleaning lampglasses (October 3rd); and a bar of soap and packet of lucifers from Mr Price (November 19th).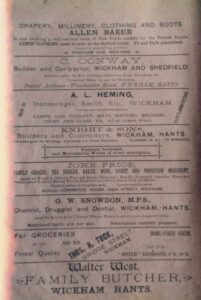 Wickham shopkeepers, 1898.
George Walker Snowdon and John Price are mentioned on a list of Wickham businesses, dated 1898, and viewable ABOVE Snowdon is described as chemist, druggist and dentist and Price as family grocer, tea dealer, baker, spirit and provision merchant.
More significant was the enlargement of the school in 1904 through provision of a new Infants School.  There is mention of this in February 1903 when on the 19th of the month the school was closed to allow preparations to be made for a concert in aid of the new infants room building fund.  More fundraising events took place such as the penny bran-tub-dips, timed precisely at 11.15 on April 13th 1904.  The importance of the local railway is signified through the entry on August 27th 1904 – `Large consignment of goods for the New Infant School arrived by rail'.  Work on the new school began in August 19th 1903 and a memorial stone was laid just over a month later on 25th September.   A year later on September 5th 1904, the infants were reported as beginning to use their new room and as its opening was fully recorded in the separate Infants School logbook.
September 5th 1904. `Opened school this morning in New Building. 74 children present. The Rev. S. Rashleigh visited school and distributed sweets to children. Time Table departed from for extra play as there no formal opening'. 
There are references to the delivery of stationery supplies.  In March 1901 three boxes of Marshall's school pens were received from Mr Snowdon and in March 1903 a batch of rural readers, junior, intermediate and senior.  On May 7th 1904 reference is made to work on the window near the front door which was `made to open and close for ventilation' and on January 18th 1906 to the removal three days earlier of the `Birch Tree planted by C.E.Radcliffe Esq. in the corner of the Boys' Playground'.   In 1909 fires began to be lit on November 5th and in the same month a new fence was erected in the Boys' playground.  Perhaps linked with this was the removal of  `the signpost of direction…from corner of Boys Playground to its present position to the left towards Fareham'.   In March 1915 the Easter Holiday was extended while a New Office was constructed.
From time to time new desks arrived and not without their problems in 1914.
August 24th 1914. `15 iron stanchions and two packages of wood for new desks, with box containing fittings for the same, arrived today'. 
October 26th 1914. `No p.m. school in consequence of the arrival of 39 new No. 1 dual desks'. 
November 16th 1914. `No p.m. school in consequence of the arrival of 36 New No. 1 Dual Desks.  N.B. Ten of them broken'.
John Tuck
Many thanks to John Tuck, great grandson of William Thomas Langford, headmaster of Wickham National School 1883 – 1916 for this article, one of a series of articles on Wickham National School, drawing mainly on the Wickham Infants' School log-books held at the Hampshire Record Office.