June 28, 2021|
Wickham National School, 1883-1916 – Events & Absences
There is much evidence in the school log-books emphasising the rural community around the town. Absenteeism is brought about by children following rural pursuits.
December 23rd 1908. `Many children rendered themselves late for afternoon school by following the hounds in the near neighbourhood'. 
Children were often away fruit picking, hop picking, gathering acorns and fallen leaves. The summer holiday coincided with the fruit harvest, for instance in 1909 school finished on June 18th 1909 and resumed on 19th July. Bye Law 5Bii permitted such absences at fruit harvest time.
Events 
Local events are mentioned. The school is frequently used as a polling station at election time and in 1903 the log book proclaims in blue ink the opening of the new railway line.
June 1st. `Local railway opened by 7.40 a.m. train up'.
The track was clearly visible from the church and school and the noise of the steam trains would have been fully audible to the children.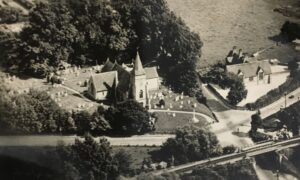 Aerial view of St. Nicholas Church and Wickham Junior School (the Infant School is out of sight to the right) with the single track Meon Valley Railway in the foreground crossing Bridge Street, c.1931.
National and international events – royalty, war, Empire – had their impact on local events and activities. On August 8th 1902 there was no school in the afternoon to allow preparation for the Coronation festivities as was the case on September 6th 1911 when Coronation Sports were held in nearby Rookesbury Park. On May 20th 1910 there was no school due to the `Funeral of the late King Edward the Peacemaker'.
The schoolmaster paid a lot of attention to the flying of the Union Jack and described in detail the arrival, hoisting and flying of flags on the school premises.
June 10th 1907. `Union Jack hoisted for the first time over front Porch to fly during school hours'. 
November 18th 1909. `Two new Flags – Union Jacks – subscribed for by the Children, Teachers, and Managers…were brought to the school yesterday by the Rector, the Rev. E. Hungerford Duke, with permission to hoist the smaller flag (3' x 6') to fly during school hours on ordinary days, and similarly to use the larger (4 ½' x 9') flag on Sundays, and on certain special days approved by the Managers'.
April 15th 1913. `Began to fly new weekday `Jack', presented by Commander Dayrell Davies of Beverly'.
War cast its shadow on Wickham and the school. In 1900 it was the Boer War and the relief of Ladysmith, a cause of rejoicing as was again the case in 1902.
March 1st 1900 `Children allowed extra play time in the afternoon while the Church bells were ringing in celebration of the welcome news of the relief of Ladysmith'. 
June 2nd 1902. `Left school in charge of Miss Skeggs and Miss Holder while I went to help ring the church bells (in celebration of the Peace Rejoicings) from 10 till 10.25 a.m.' 
The impact of the First World War was more sinister. Memorial services are mentioned and the lives of teachers affected. In 1916 a few months after Langford retired, wounded soldiers came to Wickham Square and the schoolchildren were taken to meet them.
September 23rd 1914. `Left school in charge of Mr Taylor, to attend Memorial service to the late Major John Trefusis Carpenter-Garnier, and to the late Second Lieutenant Rhys C. ff. Powell;- both killed in Action in the present war'.
October 5th 1915. `Mrs Churchus [teacher] absent: having been summoned yesterday by telephone to visit today her Brother wounded in the recent advance of the Allies on the Western front'.
September 6th 1916. `At 2.30 the children of these schools were marched to the square to welcome & cheer about 150 wounded soldiers from Portsmouth on their way to Hambledon'.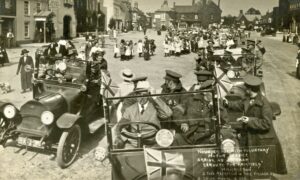 WW1 wounded soldiers on their way to a reception at Hambledon, 1916.
Absences 
In addition to absences through fruit picking , there were frequent school closures due to illness: diphtheria (September 1883 when on September 21st there were only 111 children present); measles (1888, 1895, 1904); whooping cough (1889); scarlet fever (1896, 1901); smallpox – Turkey Island children prohibited from attending school (January 11th 1886); and mumps, many children absent with swollen faces (September 1901, December 1912).
September 21st 1883. `School attendance officer visited this morning. He was unable to make any calls on the parents of absent children owing to the presence of one or two cases of diphtheria in the parish…short attendances this week in point of numbers, are owing to the anxiety of the parents concerning the cases of illness above-mentioned'. 
January 22nd 1886. `The attendance this week has been as low as 71 owing to severe weather and panic on account of small pox'. 
December 14th 1888.`The attendance continues to be very poor owing to the measles'.
Fetes, Bank Holidays and many other activities led to school closures and reductions in attendance levels which on return from the Christmas vacation on December 31st 1883, stood at 202 present. These events included flower shows (Shedfield, July 1883, Wickham, August 9th 1883); tea-parties (Wesleyan Connexion, July 26th 1883), Band of Hope (September 25th 1883); a bazaar (local war fund, May 30th 1900); a wedding, (March 17th 1909. `Attendance somewhat diminished owing to wedding of Alice (Mossie) Stubbs, formerly a scholar in this school'); a circus (Fareham, August 17th 1915); a local cattle sale (September 14th 1905) that `thinned the afternoon attendance, especially of the boys'; a rifle range concert (December 11th 1907); the opening of a New Methodist Chapel (September 19th 1906); excursions, Friendly Societies Juvenile Excursion to Hayling Island (September 9th 1910), Church Ringers and Singers Annual outing to London (September 21st 1910), Crocker Hill Sunday School, Wesleyan Methodist Sunday School, Juvenile Oddfellows and Juvenile Foresters outings; and a local Troop Rally of Boy Scouts.
John Tuck
Many thanks to John Tuck, great grandson of William Thomas Langford, headmaster of Wickham National School 1883 – 1916 for this article, one of a series of articles on Wickham National School, drawing mainly on the Wickham Infants' School log-books held at the Hampshire Record Office.
Photographs from the Stan Woodford Collection.
For more on education in Wickham, use below link.