May 7, 2020|
Wickham Fair – All the fun of the fair!
Wickham Fair day – 20th May – was a great day in the village. The horse-drawn caravans were beautifully painted – they were owned by real Romany people. They were not allowed into the Square until the church clock struck 12 noon, then they'd gallop the horses and caravans in, to try to get the best sites.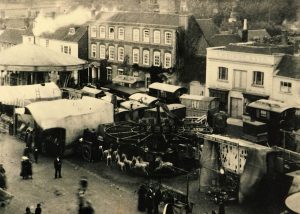 The Romany Gypsies carried baskets of lace, etc.  and went from house to house saying, "Cross my palm with silver, Lady, and I'll tell your fortune", and "you've got a lucky face".
Marjorie Millicent Knight b.1912
Some pictures through the years…