May 8, 2020|
Rosemary Copeland – Keeping life normal in Wartime Wickham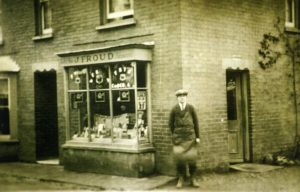 My father, Mr Jack Urban Froud, was the boot and shoe repairer – his shop was at the corner of Mayles Lane, in what later became the Pine Furniture Shop.
He was too old to be called up but like most men of his age in Wickham was in the Home Guard, and apart from his Home Guard duties was kept very busy in the later stages of the war, as all the troops stationed around came to him for their shoe repairs.
Jack Froud, 1920s
I was at Wickham Primary School – we kept going right through the 1940/41 period, and since we had no school air raid shelter, we often used a space under the railway bridge in Bridge Street – there were planks forming the floor so that we could lie down without getting too wet if the river overflowed.
In 1940 we had evacuees from Gosport – they were welcomed, but not the 'visitors' which were difficult to remove. We had all sorts of other people who came to stay in an emergency and I must have slept downstairs quite often so that a spare bedroom could be used.
All the Wickham shops managed to stay open somehow – Clarks, taking clothing coupons; Hemings; the greengrocer; and even Mrs.Brockhurst who ran the sweetshop, although there were really no sweets, but somehow she made ice cream.
The Church Hall, next to the school, was the venue for dances and functions – the Victory Hall was used as a canteen for the troops, run by local volunteers.  I think we had a village policeman, living in Manor Villas.
On VE Day I had left Wickham School and was in Fareham, but I remember most of the people at the VE Day party in the Square – like many people it's easier to recognise the parents rather than the children!