May 8, 2020|
Peter Merrett – working for the war effort and the A.R.P – an nearly killed by a German fighter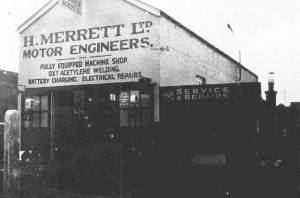 Peter was 20 at the outbreak of war, living in Bedford Place (now Dairymoor) with his parents. He was serving an apprenticeship in his father's garage (Forge Garage), and in 1940 volunteered with his eldest Muriel sister for ARP duties – Peter working at night, with his sister by day, as ambulance drivers.
The ARP worked from the back room of Victory Hall in Bridge Street, and consisted of Muriel and Peter Merrett, Arthur Brockhurst, Reg Page, Chris Page, Harold McCarthy, Marjorie, Ken and Phyllis Blackman, and Commander Seymour, with Gran Evans as Carer and Tea lady.
Peter was, in 1940, directed by the Ministry of Labour to work at the Supermarine works at Hamble, fitting Merlin engines into Spitfire frames.  At the same time his father's garage was taken over by the Royal Army Service Corps (RASC) as their workshops, with a big park opposite for their heavy vehicles.  Whilst at Supermarine one day, Peter and two colleagues were machine gunned by a German fighter while standing outside during a break; his two colleagues were killed alongside him.
Peter also remembers:
In September 1940 or 1941, bombers unload fire-bombs on the village, 3 of which went through the roof of his house with no serious damage as his father had put corrugated iron protection under the roof.
High Explosive (HE) bombs were dropped in Knowle Lane and Frith Lane, again with no serious damage.
His father's garage continued working in the machine shop, with his sister and brother producing bolts and nuts for Bailey bridges.
In 1943 there was a general call for more service people, so Peter, with two colleagues, volunteered; they went into the Navy, and he went into the RAF, but was sent back within a month because he had no permission to leave. He found it very tiring working 12 hours every day and then doing ARP duties at night.
Leading to D-Day, there were Canadian Divisions camped along the roads, in Bere Forest, and at Roche Court.
The railway line was closed to passenger traffic, and an anti-aircraft truck travelled back and forth, with good cover from tall the woods.  Also the railway at Droxford was famously used as a location for a meeting between Mr Churchill, General Eisenhower and General Montgomery as part of the D-Day planning.
Throughout the War, Hampshire County Council took over the Square, and built a substantial air-raid shelter; in order to maintain the charter conditions for the fair it was held with merely one or two stalls – and still run by the same family as today.
Wickham in Wartime: The Home Front published 1995