February 6, 2022|
Joseph Ratty – A man of good character
In 2021, Sandie Vigar was looking through books belonging to her late mother-in-law and came across a Book of Common Prayer that had been presented to a Joseph Ratty in 1854.  Although no definite connection with the family has been established, Sandie passed the book to Wickham History Society to ask in their best David Olusoga House Through Time style to see what we could come up with about Joseph and the South East Hants Agricultural Laborers Association.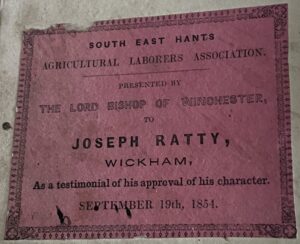 The testimonial to the good character of Joseph Ratty, gardener, High Street, Wickham presented by the Bishop of Winchester 1854
Joseph was one of three agricultural workers given awards for their good character in 1854, out of eight nominated.  The Rev. Dumergue said, when presenting the prizes, that he hoped they would be 'carefully preserved and descend as memorials to their families': he would have been pleased to know that the book was carefully preserved and that Joseph was being remembered one hundred and sixty-eight years later.
Joseph, the son of James and Elizabeth Ratty, was born in East Meon where he was baptised on 17th January 1782.  At about 40 years of age, he married Sarah Hurst, a spinster from Fareham, at Alverstoke. Joseph couldn't write so signed the register with his mark of an 'X'. Their only child (that we know of) Sarah Hurst Ratty was born in 1830 at Hambledon.
We know he was living on the High Street (Wickham Square) in 1841 with the Rodd family. It may be that this was a lodging house as there were another five adults living there too, making twelve in total, so they would be likely to have had one room to themselves and shared kitchen and – outdoor – toilet facilities. By 1851 their housing situation had improved as Joseph and Sarah, still recorded as living on the High Street, are no longer sharing accommodation. Their daughter Sarah had moved out – she was still unmarried so perhaps she was in service elsewhere.
Joseph worked for James W. Woolridge, a farmer of substance, who rented Webb's Land and Great Tapanage farms.  Joseph was obviously a trusted worker and had impressed Mr Woolridge so much that he put his name forward for the awards. In the records, Joseph is always described as a gardener rather than as an agricultural labourer.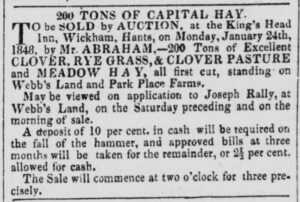 Advert naming Joseph Ratty at Webb's Land Hampshire Telegraph 15th January 1848
By the time he got the award Joseph was in his seventies and this was recognition for his good example to other agricultural workers over the years. The full title of the awarding Association was  'The SE Hants Association of the Encouragement of Industrious and Meritorious Laborers, residing in the Unions of Fareham, Droxford, Havant and Catherington, and in the Parishes of Portsmouth, Portsea and Alverstoke', founded in 1836 and presided over by the Delme family of Fareham. The emphasis was on 'character', on bringing up families well and without recourse to parochial relief, and also with awards for a whole range of agricultural skills. It is good to know that Joseph, like all the prize winners, also got a free dinner at the Red Lion in Fareham!
Joseph and Sarah's daughter Sarah married Peter Bridges, a mariner, in 1857.  By 1861, in his late seventies, Joseph and his wife Sarah are recorded as living with his daughter, son-in-law and their two children in Stoke Road, Alverstoke.  Five more children were born to Sarah and Peter, although one sadly died in infancy.  Joseph would have been delighted to know his grandson Joseph, who was born a year before his death in Alverstoke in 1867.